Table of Contents
LiteSpeed Cache for WordPress: Troubleshooting
LSCWP provides comprehensive optimization functionality for your WordPress installation(s). With most typical WordPress installations, LSCWP works right out of the box.
However, as WordPress has many extensions/plugins/themes available, sometimes there may be conflicts. And sometimes you just want an expert to optimize the settings for you, in order to achieve the best results possible.
LiteSpeed Technologies attempts to document as many scenarios and instructions as possible here on our wiki. You are invited to check the wiki first to see if you can resolve the problem on your own.
In the case that you need professional handling/troubleshooting of your problem, LiteSpeed Technologies offers a WordPress Cache(LSCWP) Support Service, provided by our experienced System Engineers and LSWCP Developers, to help our clients to optimize their settings or to troubleshoot conflicts.
Tier 1: Free Support
Tier 2: LSCWP Ticket Support $30/per task
LSCWP includes a lot of functions beyond enabling/disabling the cache feature. We can help you with troubleshooting such issues on a per task basis. This service includes but is not limited to:
CSS/JS Optimize settings: CSS/JS Minify, CSS/JS Combine or CSS/JS HTTP2 Push. (There are restrictions. Please see NOTE 2 below.)

Image optimization (Optimize all images for the site, convert to WebP format)

Using LSCWP object cache with Memcached or Redis

Crawler and other available functions in LSCWP
NOTE 1: Please turn off CDN caching before engaging us. If a CDN cache is enabled, such as Amazon Cloud Front, or CloudFlare Cache etc, you should turn it off before we begin troubleshooting. We will be unable to ensure LSCache and the LSCache plugin are properly configured if a CDN is in the way. You can re-enable it at your own risk after we have completed our work, but we can't guarantee our cache solution will work with your CDN's cache.
NOTE 2: in regards to CSS/JS Optimization: Sometimes, especially if you have a big site or many plugins installed, we will start to work and discover you have a prohibitively large number of CSS/JS files to look at. In these cases, we will ask you to engage us via Tier 4 Hourly Support, because it is a big job. Additionally, while we will attempt to identify the reason for your site's problem and provide a solution recommendation, we will not provide a custom coding service to fix your JavaScript files, since they do not contain our code.
LSCWP support is worry free. If we find a bug, support is fully refundable!
Tier 3: LSCWP - Woocommerce Support $50/per task
LSWCP supports the WooCommerce platform and we can help you troubleshoot problems that occur when you use LSWCP with WooCommerce.
Tier 4: LSCWP - Hourly Support
If you have an issue that is not with the LSCWP code, but with your WordPress site's other js/themes/plugin code, you can engage us through hourly support services.
To Order Tier 2 or 3 Support
Visit our Client Area.
Locate the following and press the Order Now button: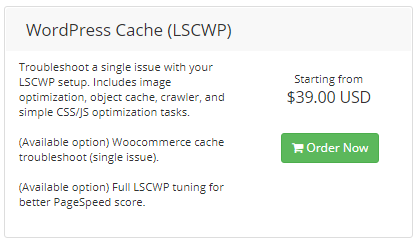 Under Configure > Configurable Options > Support Scope, select either General Wordpress Site support or Woocommerce Site support: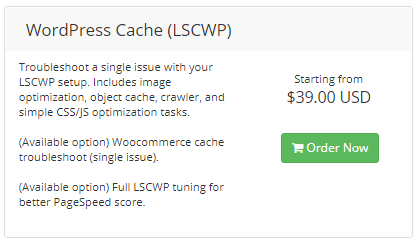 LSCWP support is worry free. If we find a bug, support is fully refundable!