This is an old revision of the document!
---
After Drupal 7 a lot has changed in Drupal 8. They have converted from procedural programming to Object-Oriented Programming. Drupal 8 has built-in Page Cache (for static Content) and Dynamic Page Cache for (for logged in user). Which basically work as reverse proxy written in PHP. Built in the proxy is good in case you have no other options, however, with LiteSpeed Cache plugin there is a great improvement in performance for your Drupal 8 Site.
Prerequisites
Download
Download LiteSpeed Cache Module to your local computer from:
https://github.com/litespeedtech/lscache_drupal/archive/master.zip
Install Plugin
Once you have downloaded the plugin, you can install by visiting
http://example.com/admin/modules/install
Using the browse button you can upload the plugin you just downloaded and start the installation. Once installed enable plugin by going to:
http://example.com/drupal/admin/modules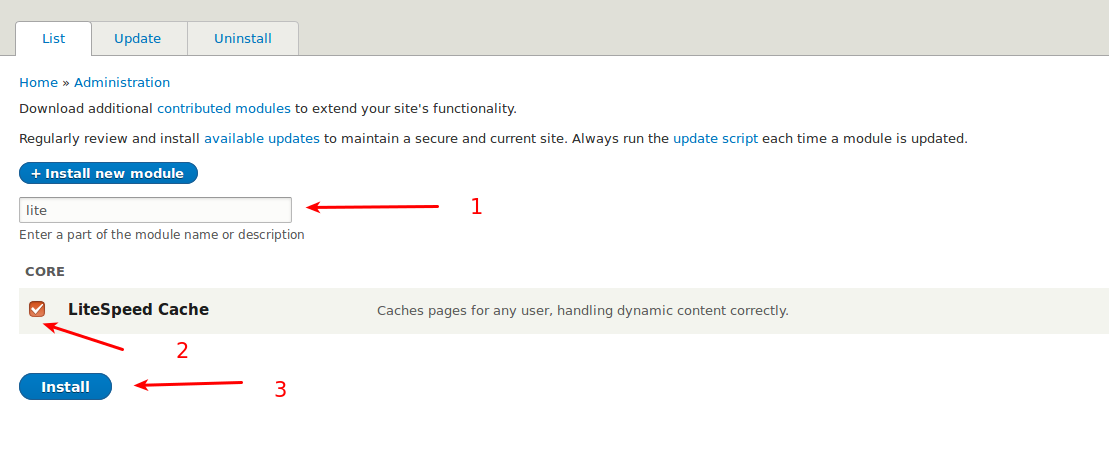 Use the search box to search for a module.

Check the plugin checkbox.

Click Install.