Advanced and Accurate Caching
LSCache for Joomla is a free and open source Joomla extension that works by serving static snapshots of dynamic content. In bypassing expensive PHP transactions, page load times are dramatically reduced.
LSCJoomla's advanced tools and tag-based caching system make it easy to manage an accurate cache. When content is updated, targeted purging insures that you never clear too many (or too few) pages from cache. And the cache crawler rebuilds purged pages, minimizing the chances that users will encounter uncached content.
With LSCJoomla's ESI feature, serve fully cached, personalized content to logged-in users, and keep your site fast and accurate for everyone.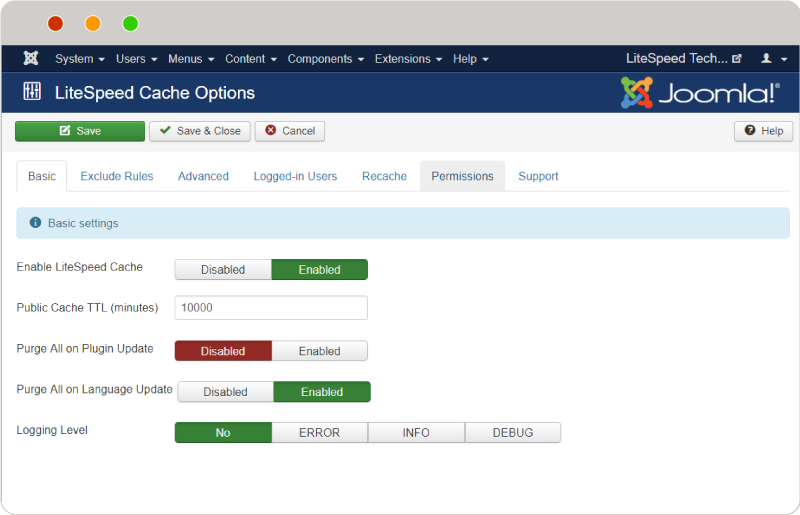 ---

Why Should You Use LiteSpeed Cache for Joomla?
The LiteSpeed Cache extension communicates with your installation of LiteSpeed Web Server and LSWS's built-in page cache to deliver superior performance to your Joomla sites.
Server-Level Full-Page Cache
Cache for Logged-in Users
Crawler to Refresh Cache
Tag-Based Caching and Purge
Cache Mobile and Desktop
Flexible Exclude Rules
Smart Auto-Purge
User-Friendly Management
Purge Cache on Plugin Updates
Purge Cache via Secure Link
Define Cache Settings per Module
---
Frequently Asked Questions
Is the LiteSpeed Cache Extension for Joomla free?

Yes, LSCJoomla will always be free and open source. That said, a LiteSpeed server is required, and there are fees associated with some LiteSpeed server editions.
What server software is required for this plugin?

A LiteSpeed server is required in order to use this plugin.

LiteSPeed Web Server Enterprise with LSCache Module (v5.0.10+)
OpenLiteSpeed (v1.4.17+)
LiteSpeed WebADC (v2.0+)

Any single server or cluster including a LiteSpeed server will work.
What is the difference between the LSCache Module for LSWS (requires a license) and the LSCache Extension for Joomla (free)?

The LSCache Module is built into your licensed copy of LiteSpeed Web Server. When it comes to caching dynamic content, the LSCache Module does all of the work.

The LSCache Extension for Joomla is simply an interface. It allows Joomla to instruct the server Module on what to cache, how long to cache it, and when to purge. And it allows the site owner to manage and configure the Module. Without the Module, the Plugin could not function.

A licensed LSCache Module is required in order to use the free LSCache Extension.
Does this plugin work in a clustered environment?

The cache entries are stored at the LiteSpeed server level. The simplest solution is to use LiteSpeed WebADC, as the cache entries will be stored at that level.

If using another load balancer, the cache entries will only be stored at the backend nodes, not at the load balancer.

The purges will also not be synchronized across the nodes, so this is not recommended.

If a customized solution is required, please contact LiteSpeed Technologies at This email address is being protected from spambots. You need JavaScript enabled to view it.

NOTICE: The rewrite rules created by this plugin must be copied to the Load Balancer.
Does LiteSpeed Cache for Joomla work with OpenLiteSpeed?

Yes it can work well with OpenLiteSpeed, although some features (such as ESI) may not be supported. Any setting changes that require modifying the .htaccess file will require a server restart.
Does LiteSpeed Cache for Joomla have a crawler?

Yes. A crawler may be initiated on demand with the press of a button, or configured to run for a brief period of time when a purge has been triggered. Visitors are far less likely to encounter uncached content on a well-crawled site. Pages load fast and deliver a positive user experience.
How can I install LiteSpeed Cache for Joomla?

LiteSpeed Cache for Joomla works right out of the box with default settings that are appropriate for most sites. Please refer to the steps from our How to Install LSCJoomla page.
How can I check if LiteSpeed Cache is enabled?

You can check if LiteSpeed Cache (LSCache) is enabled by using the browser's developer tools. Check out our guide Check if LiteSpeed Cache is Enabled for a step-by-step tutorial.
---
What's New With Joomla
JULY 10TH, 2018

Last week we discussed private cache for your Joomla site. Today we're going to take that a step further and explore ESI, or "Edge Side Includes"...

Read More

JULY 3RD, 2018

In our first issue of Joomla Tips, we introduced the LiteSpeed Cache for Joomla plugin, and explained how to easily configure the basic settings...

Read More

JUNE 12TH, 2018

If your Joomla site is powered by LiteSpeed Web Server, you have a very powerful new tool at your disposal: the LiteSpeed Cache plugin for Joomla...

Read More
---
LiteSpeed Cache for Joomla Support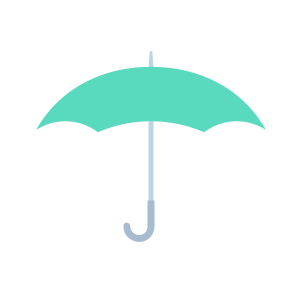 Engage LiteSpeed through one of our four support tiers. We'll expertly configure your system or troubleshoot your issue.