LiteMage Cache for Magento

LiteMage is a Magento extension that communicates with your installation of LiteSpeed Web Server and its built-in page cache to accelerate your Magento store and keep your customers coming back.
Overhead Eliminated
Integrated directly into LiteSpeed Web Server, LiteMage shortens your server stack and eliminates overhead.
LiteMage's top-of-the-line ESI implementation features Hole Punching for private content on publicly-cached pages. Serve pages quickly from cache, even when information changes from visitor to visitor!
Combine superior Magento performance and painless setup with LiteMage!
You can try LiteMage for Free with our 15-day LSWS Trial License - a 2 CPU license with LiteMage Unlimited.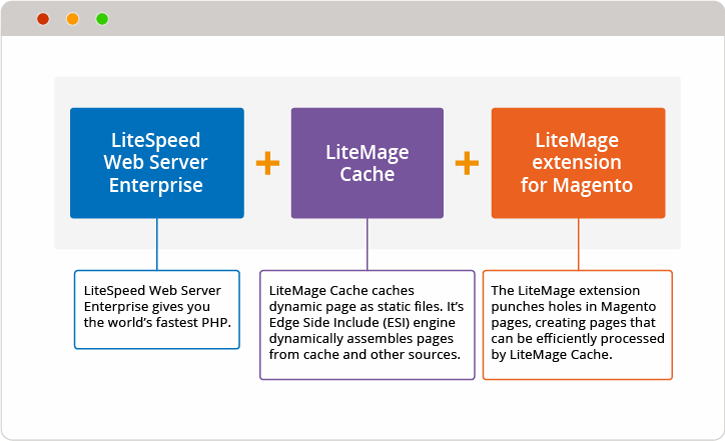 ---

Why Use LiteMage
LiteMage is your go-to performance solution for steady everyday loads and major traffic spikes alike. With its highly-customizable tag-based cache-management system, LiteMage ensures your store's pages are always served fast and fresh.
Hole Punching

Edge Side Includes (ESI) engine for hole punching.

Customizable

Configurable punched holes mapped to blocks defined in the Magento page layout.

Public and Private Cache

Main page and public blocks are cached once and served to all users. Private blocks are cached per-user and served only to that user.

Low Overhead

Retrieve multiple blocks per request, minimizing the overhead of building multi-block pages.

Bypass the Backend

Support for Last Viewed Product (this can be turned off for even faster speeds), Product Comparison, Stock Tracking and other features requiring communication with the Magento backend.

Navigation Options

Support for layered navigation, category filtering, product toolbar options (view as, sort by and show per page) functionality.

Multiple Views

Support for multi-store, multi-currency, and multi-user groups.

AJAX Support

Support for extensions using AJAX based cart.

Crawler

Built-in crawler to keep the cache warm.
---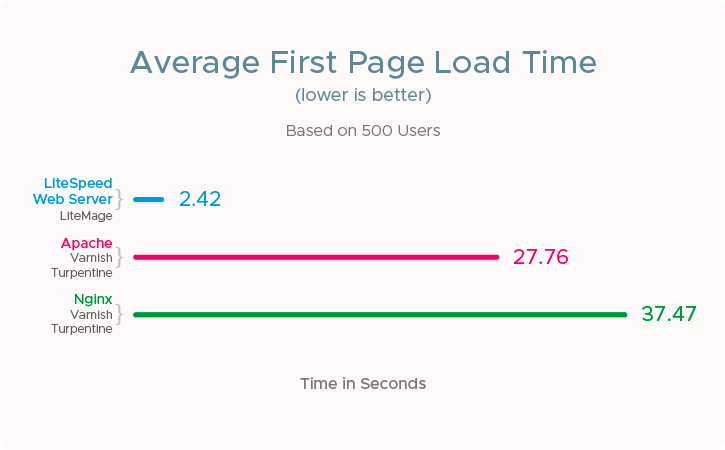 Benchmark
Internet shoppers are impatient, many of them not waiting more than 5 seconds for a page to load! With LiteMage added to your Magento store, you can keep potential customers' attention right from the first page load.
Compare the page load time of LiteSpeed Web Server with LiteMage against other web servers and cache solutions, and see the LiteMage difference for yourself!
---
Comparisons
How Does LiteMage Cache Compare to Other Page Caching Solutions?
Varnish-based solutions
(Turpentine, etc.)

---

Complicated to set up.
Requests dynamic blocks individually, multiplying the high cost of Magento framework initialization. Can make a cached page even slower than an uncached page.
No SSL support. Frontend proxy server required to support HTTPS, adding even more layers.
Uses AJAX, which lowers overall server performance.

Solution for Magento
(Litemage Cache)

---

All content can be assembled from cache, even per-user, private blocks, for best performance.
Multiple blocks are called for in a single request, lowering overhead.
Native SSL support.
Supremely scalable — handles 10,000's of connections without missing a beat.
Built-in extra anti-DDoS features protect you from attacks.
Suitable for Shared Hosting and clustered environments.

PHP-based solutions
(Full Page Cache)

---

Content is cached by PHP, so all pages are still generated dynamically by PHP. PHP is a heavy language and overall scalability is thus limited by PHP scalability.
Reliance on PHP causes generally slower page load times.
Limits in PHP scalability make PHP solutions vulnerable to DDoS attacks.
---
Case Studies

No Room To Optimize? Try LiteMage

After trying every other optimization solution imaginable, Sustainable Furniture implemented LiteMage Cache with default settings and immediately saw their page load times drop to at least half of what they were previously.

Sustainable Furniture


LiteMage is Caching Made To Order

Rafasshop were happy to find that, contrary to their past experience testing other caches with their highly complex site, LiteMage worked for them out-of-the-box without the need for any manual configuration.

Rafasshop
Aspiration Hosting

LiteMage Cache Drastically Improves Page Load Times

With the same configuration and LiteMage active, the average response time dropped to an incredible 0.12 seconds with the shortest transaction coming in at 0.06 seconds and the longest at 5.26 seconds (likely a page that was not cacheable). That is a 93.5% reduction in response time, over 15x's faster than before!

Sindre M.
CEO of ProperHost
---
What's New With LiteMage

Aug 28th, 2018

Our cache crawler script traverses your store's sitemap file, refreshing pages that have expired in the cache.

Read More

Mar 12th, 2018

Your guide to all of the LSCache add-ons currently available: there are more of them than you think!

Read More

Apr 23rd, 2018

What works for small-to-medium sized stores may not work for stores with thousands of products.

Read More