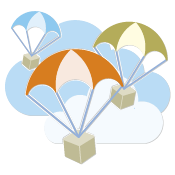 Scenarios
LiteSpeed QUIC can be deployed to your infrastructure in a number of ways.
You can replace your web server with LiteSpeed Web Server. LiteSpeed is an Apache drop-in replacement.

You can replace your load balancer in front of a cluster with LiteSpeed WebADC. Web ADC has advanced features like cross data center replication, cache acceleration, high availability, and more.

You can set up a cache-accelerated front-end proxy with either LSWS or WebADC, without major surgery to existing infrastructure.
---
[
Requirements
HTTPS with a trusted certificate

UDP Port 443 open at the firewall
]
---